Bergstrom China has been re-certified with silver level through Caterpillar's Supplier Quality Excellence Process (SQEP) program in 2018.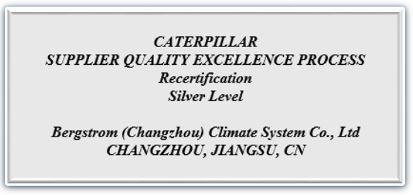 As a world's leading manufacturer of construction machinery, Caterpillar has a recognized world-class supply chain system with very stringent requirements for suppliers. During Caterpillar's supplier review process each month, Bergstrom China achieved excellent results in comprehensive evaluations in criteria including product quality, product delivery, service etc.


This award is a recognition for Bergstrom China's superior quality management of its HVAC products. Bergstrom's people are never content with "good enough" and we are committed to improving everything we do continuously to provide stellar products and service to every one of our customers.